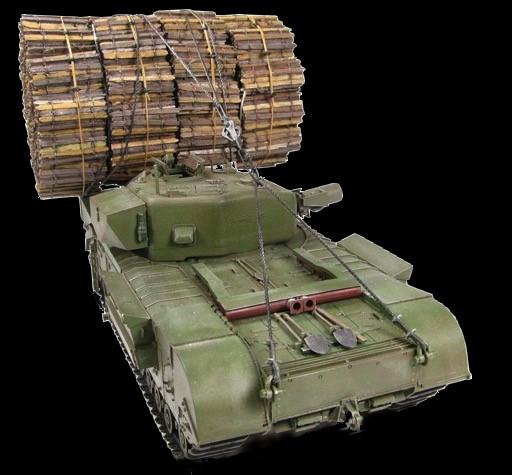 AFV Club 1/35 Churchill Mk IV AVRE (Armored Vehicle, Royal Engineers) Tank w/Fascine Carrier Frame Kit
Estimated Shipping: 2-3 Business Days
AFV-35288
---
In August 1942, to relieve pressure from the USSR on the Eastern Front, a ground force consisting of the Canadian Army, Royal Navy and Royal Air Force, chose the French port of Dieppe to attempt an experimental landing . This operation was originally set as regional scale. The whole landing troops were less than 10,000 people, including the Calgary Regiment consisting of 29 Churchill Infantry tanks.

Most production A.V.R.E.'s (Armored Vehicle Royal Engineers) were fitted with brackets on the hull for the attachment of fittings for special tasks.

A great example of one of these fittings was the 'fascine carrier frame' for carrying fascine bundles tied with steel wire ropes. Ropes were tied with a rope lock with a quick-release mechanism that can be employed to quickly release the wood bundles. because the sight of the driver was blocked by the carrier frame, the driver would need advise from crewmen in the turret to help with directions. Even with this defect, Churchill AVRE fascine carriers still performed efficiently on the battlefields of Normandy. 

'Hobart's Funnies' was the name given to these types of unusually modified tanks which operated during the Second World War by the United Kingdom's 79th Armored Division or by specialists from the Royal Engineers.

They were designed in the light of problems that more standard tanks experienced during the amphibious Dieppe Raid, so that the new models would be able to overcome the problems of the planned Invasion of Normandy. These tanks played a major part on the Commonwealth beaches during the landings. They were forerunners of the modern combat engineering vehicle and were named after their commander, Major General Percy Hobart.
Lumber bundles not included
Features:
New tooling fascine carrier frame with delicate wooden texture (lumber bundles not included)
Steel wire rope, U Shaped shackles and rope lock included
Churchill Mk.IV cast turret
Highly detailed petard mortar and armour plates
Realistic suspension system with metal coil springs
Mudguards with same parting structure as the real vehicle
Clear periscope vision blocks included
Precision photo-etched parts included
Includes markings for:
79th Armoured Div., 42nd Assault Regiment, 222nd Assault Sqn. T68434'C Sabre
79th Armoured Div., 6th Assault Regiment, 82nd Assault Sqn. T68079 Leveret
79th Armoured Div., 6th Assault Regiment, 82nd Assault Sqn. T3217166/C Leopard
79th Armoured Div., 6th Assault Regiment, 82nd Assault Sqn. T172540 Loch Ness
---
Share this Product
---
More from this collection