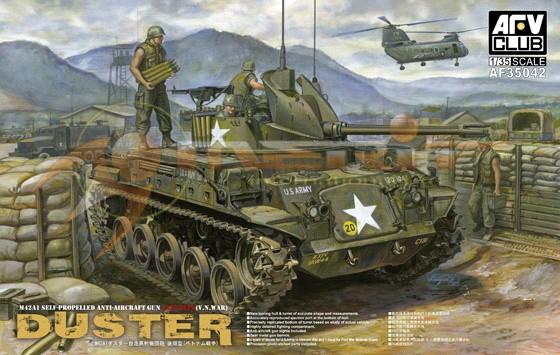 AFV Club 1/35 M42A1 Duster Late Type w/Self-Propelled Anti-Aircraft Gun Vietnam War Kit
Estimated Shipping: 2-3 Business Days
AFV-35042
---
The twin 40mm self-propelled gun
T141
 was developed using the 
M41
 tank chassis as a basis with a large gun mounting housing the 
twin 40mm Bofors M2A1 cannon
 with full 360-degree traverse. The first 
T141
 was delivered in April 1952 and redesignated 
twin 40mm self-propelled gun M42
 in October 1953 and commonly referred to as the "Duster".

With the upgrading to the fuel injected AOSI-895-5 engine it was reclassified as the

 

M42A1, there were several smaller features that changed during production, most noticeable the early two hatches between the top crew hatches were replaced but a single flat plate on later vehicles and the head light array of later vehicles included the horn and blackout driving light with redesigned brush guard.

It should be noted that as this was classified as a self-propelled gun it did not have a turret as commonly referred to with a tank but instead a "gun mounting" housing the two

 

40mm cannon, a small technical point for those wishing to know. I will refer to the "gun mounting" in the review as this is the correct description after all.
The kit consists of:
442 parts in olive drab plastic
3 etched brass parts
2 aluminum barrel tubes
2 small springs
18 vinyl washers for holding the wheels in place
1 short length of twine
2 runs of vinyl track
1 decal sheet and the
1 instruction booklet. 
---
Share this Product
---
More from this collection