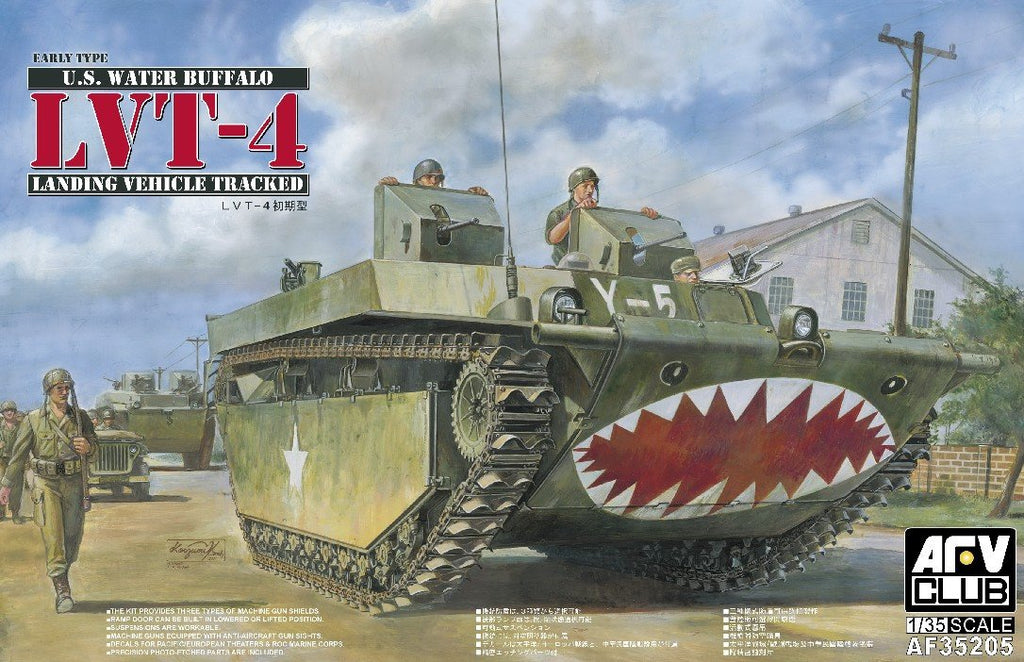 AFV Club 1/35 US LVT4 Water Buffalo Early Amphibious Vehicle Kit
This Product Usually Ships In 2-3 Business Days
AFV-35205
---
The LVT4
was basically a redesigned LVT2 with the engine moved centrally behind the driver's cab with a large rear cargo area for a 3000lbs (1360kg) payload or 30 troops and rear loading ramp for easier access than the earlier LVT2. It was powered by a Continental W670-9A 7 cylinder petrol engine giving a speed of 20mph (land) and 7.5mph (water) and was armed with either the M1919 cal. 30 MG or M2 cal.50 HBMG and was first used at Saipan in 1944 as well as in Europe after D-Day by the US.Army and via Lend Lease to Britain in Italy and the Rhine crossing in 1945.
Excellent exterior detail, workable suspension with vinyl track lengths, fully detailed forward crew compartment (with gearbox) and aft troop compartment interiors, clear-molded periscope vision blocks, 2 each M1919 cal .30 and M2 cal.50 machine guns, choice of 3 types of M2 gun shields, nylon cord ramp cable, optional position rear ramp, separately molded hatches and winch/storage compartment cover panels, photo-etch grilles and film gauges
Decals and painting guide for 5 vehicles: US Army, Manila, February 1945; US Army 351st Infantry Regiment, Northern Italy, April 1945; USMC, Iwo Jima, February 1945; ROC Marines, October 1961 and US Army 7th Infantry Division, Okinawa, April 1945.
---
Share this Product
---
More from this collection