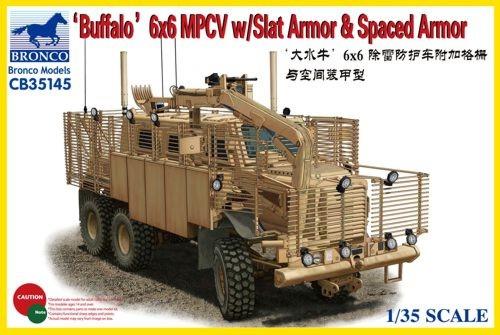 Bronco 1/35 Buffalo 6x6 MPCV Multi-Purpose Crew Vehicle w/Slat Armor & Spaced Armor Kit
Estimated Shipping: 2 -3 Business Days
BOM-35145
---
The U.S. military was faced with the war on terror it was to have suffered enormous damage mechanism and explosives in the mine by (IED). Casualties of soldiers could only increase can not be protected at all, such as Humvees that have previously been deployed also to strengthen the armor IED.  
So the U.S. military has decided to develop IED measures for armored vehicles based on it keeping an eye on Casper armored vehicles had been employed in South Africa. Casper The original was a four-wheel-drive vehicle, but the IED removal arm was attached to the front of the vehicle body is changed to a 6-wheel drive.  
And to minimize the damage of a passenger car's body characteristic is of a V-shape in order to miss the blast of the IED that exploded under the vehicle. It is equipped with additional space de armor and slat armor of gridiron-like body around as anti-tank explosives molded bullets measures such as RPG further.
---
Share this Product
---
More from this collection