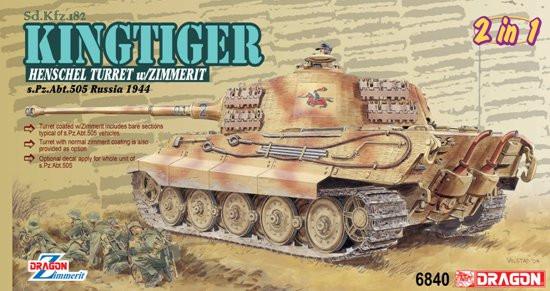 Dragon Military 1/35 SdKfz 182 sPzAbt505 King Tiger Henschel Production Tank w/Zimmerit Russia 1944 (2 in 1) Kit
This Product Usually Ships In 2-3 Business Days
DML-6840
---
The mighty German Kingtiger tank has always been immensely popular with modelers, so Dragon is again catering to the desire for yet another member of the family. It is a 1/35 scale tank belonging to Schwere Panzer Abteilung 505 (s.Pz.Abt.505), an independent heavy tank battalion formed in February 1943. 
Its insignia is instantly recognizable – a charging knight on a horse.
Initially it was equipped with Tiger I and Panzer III tanks, but by September 1944 it had been re-equipped with the Kingtiger. It fought on the Eastern front until the end of the war.
What sets this 1/35 scale kit apart is the pre-injected Zimmerit coating on the upper hull and turret. Of course,
the kit perfectly mimics the original Kingtigers of s.Pz.Abt.505 in that there are rectangles on the turret where there is no Zimmerit to allow the unit insignia to be painted on. No one does Zimmerit better than Dragon, with the texture carefully and realistically crafted to scale.
Zimmerit is a unique characteristic on many German tanks, and instead of having to mess and fiddle around with putty, many modelers have stated a preference for having it pre-molded on their kits. Of course, the famous insignia is included as high-quality decals.
As a special bonus, Dragon also placed in the box a second turret with a completely normal Zimmerit coating, thus giving modelers even more choices to build a regular Kingtiger.
This kit will have modelers charging down to their model shops to see and buy it for themselves!
---
Share this Product
---
More from this collection