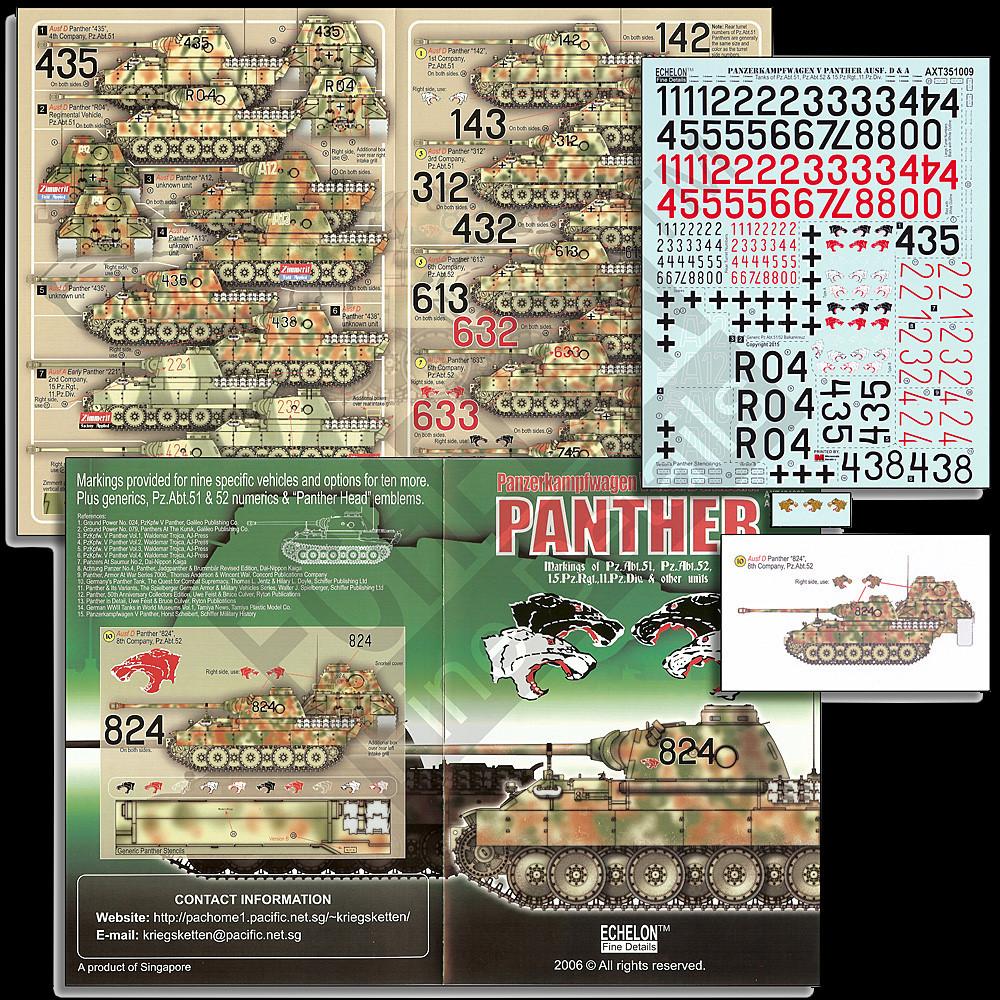 Echelon Decals 1/35 PzKpfw V Ausf D/A Panther
This Product Usually Ships In 2-3 Business Days
ECH-351009
---
All that you'll ever need to mark the Pz.Abt.51 and 52 Panthers accurately. Very thin white-outlined numbers, be it Black or Red. Not forgetting the smaller and differently styled rear turret numbers used by the Pz.Abt.52 vehicles, also in two colors. And it doesn't end here, how about TWO slightly different versions of blood-thirsty Panther heads in 5 color configurations each? And, no the Panther heads on the turret rear are NOT of a smaller size, we have made sure of the fact by doing some careful measurements and comparisons. Besides, wouldn't it be impractical to have two slightly different sized stencils of the same head?
In the vehicle-specific marking options provided, two are from Pz.Abt.51, Panthers "435" and "R04". What's unique about "435" is that the rear turret numbers are in plain black while the sides are white-outlined black (to be assembled from the generic numbers provided).
The true identities of Panther "A12 and "A13" are still unknown at the moment, but given the unique turret numbering system, plus the way camouflage and zimmerit has been applied (areas close to the alphanumeric edges have been masked from zimmerit!), they certainly value-add to the set.
Two other Panthers with "identity crisis" are "435" and "438". A few references suggested they were in the Ardennes area. But what's really weird about these two is that the "3"s and "5"s are an exact match to the same digits found in the Pz.Abt.51/52 numerics! The only difference is that the white outlines are slightly thicker in appearance. Could there possibly be a link between the two units?
Lastly, the interestingly marked, camouflaged and zimmerited Panthers of 15.Pz.Rgt. If not for the Early Ausf. A "221", this would have been a dedicated Panther Ausf. D set. However, by leaving out "221", it would seem rather incomplete. To those unfamiliar with 15.Pz.Rgt. Panthers, these vehicles received unique two-toned, soft-edged camouflage pattern, coupled with rather skinny turret numbers. To top it off, the zimmerit pattern on these vehicles are also atypical of the styles commonly found on most Panzers. Straight and vertically-formed (most likely factory applied or by a very neat applicator out in the fields), even on the side skirts!
---
Share this Product
---
More from this collection