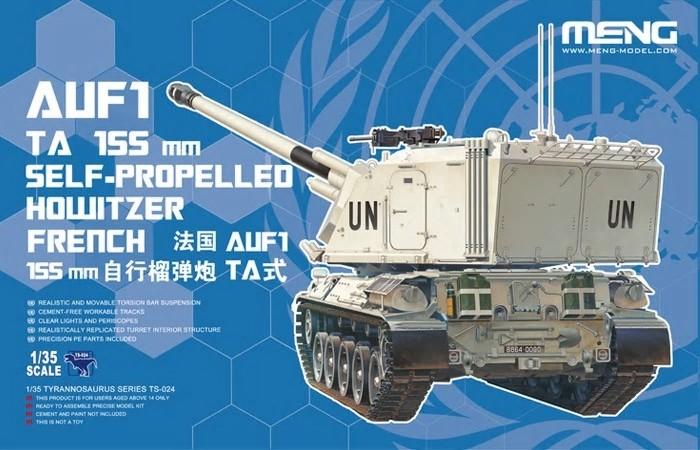 Meng 1/35 Auf1 TA 155mm Self-Propelled Howitzer French Tank (UN & NATO Markings) Kit
This Product Usually Ships In 2-3 Business Days
MGM-TS24
---
The AUF1 TA is the latest version of AUF1 155mm self-propelled howitzer produced by the French GIAT Industries under the requirement of the General Directorate for Armament (Direction générale de l'armement, DGA) at the beginning of this century. In order to keep up with the trend of global self-propelled gun development after the Cold War, the AUF1 TA has significant improvements on the fire-control and power systems. It's fitted with a brand-new ATLAS fire-control system which makes the howitzer superior to the AUF1 on the rate and accuracy of fire. It's an advanced gun as good as the world-class howitzers like the U.S. M109, British AS-90 and German PzH2000 in the term of gun performance. The three additional antenna bases on the top of the turret are an important feature for recognizing the AUF1 TA turret.

There are more changes on the chassis of the AUF1 TA than on the turret. The AUF1 TA is based on the AMX-30B2 chassis. The GIAT Industries installs a Renault Mack E9 diesel engine in the AUF1 TA so it can operate with the latest French Leclerc MBT. The diesel engine is bigger, so the overall height of the engine compartment is increased by 12 cm; the AUF1 TA uses new double-pin tracks. These improvements have resulted in better mobility of the AUF1 TA. In 2006, AUF1 TAs of French Army joined the UNIFIL's peacekeeping missions in Lebanon. That was its first deployment in an actual combat environment.

The MENG TS-024 AUF1 TA Self-propelled Howitzer plastic model kit features a movable suspension system, cement-free workable tracks, turret hatches that can be modeled open or closed and precision PE parts.
The Powerful AUF1 Is Perfectly Modeled And Its Uniquely Shaped Polygonal Turret Is Beautifully Reproduced, Showing Majestic Appearance Of The Real Howitzer.
A Variety Of Equipment On Front Glacis Plate Are Reproduced As Real Ones And Large And Unique Head Lights Are Realistically Represented.
Engine Deck Is Richly Detailed; All Tools And Equipment On Rear Hull Are Exactly Reproduced; Engine Radiator Grille Is Delicate And Detailed.
Extremely Characteristic Gun Recoil System Is Precisely Represented With Realistic And Attractive Structure.
Equipment And Control Panel Inside Turret Are Exactly Reproduced.
Delicately Reproduced Large Ammunition Racks Represent The Greatest Feature Of Self-Propelled Howitzers. A Variety Of Ammunition Provided Give More Options For Dioramas.
Realistic Torsion Bar System Helps The Model To Run Across Rugged Surface Like The Real Tank.
Finely Designed Painting Mask Makes Painting Of Wheels And Tracks Easier And More Interesting.
Contains Green, Brown And Clear Sprues, A Decal Sheet, A PE Sheet As Well As A Painting Mask.
---
Share this Product
---
More from this collection