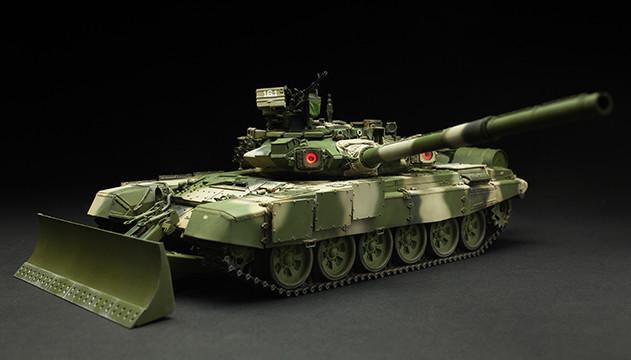 Meng 1/35 T-90 MBT w/TBS-86 Dozer Blade Kit
This Product Usually Ships In 2-3 Business Days
MGK-TS14
---
The Russian T-90 main battle tank is a modernization of the T-72B MBT. It was designed by the Ural Design Office of Transport Mechanical Engineering. In 1992, its production started and then it entered service in Russian troops. The tank consists of a large-caliber smoothbore gun which can launch missiles, auxiliary machine guns and an automatic fire control system; it is mounted with Russian Shtora ("curtain" in English) combined electro-optical countermeasures suite to protect the tank against laser guided weapons and it is also fitted with an NBC protection system. In total, about 120 T-90 MBTs were produced. Later they have been gradually replaced by more advanced T-90A.
This kit has the following features:
Separate anti-radiation applique parts are included
Clear lights, periscopes and optical equipment are included
Light emitting electronic components are provided to replicate the infrared dazzlers
Cement-free workable single pin track links are easy to assemble
The precise tank dozer is workable
Precision PE parts are provided
Three paint schemes are provided.
---
Share this Product
---
More from this collection