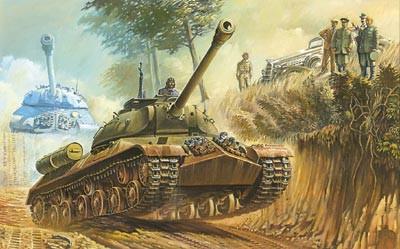 Roden Military 1/72 IS3 Stalin Soviet Tank 1944 Kit
This Product Usually Ships In 2-3 Business Days
ROD-701
---
Production was started in May of 1945, and continued up to mid-1946. At the end of the War 29 tanks were produced, with their total production number continuing on to 2311.
The IS-3 was not used in any military action during World War II, but on September 7th 1945 a tank regiment had taken part in the parade of Red Army Units in Berlin, being dedicated to the victory over Japan.
The IS-3 had been modernized by the end of 1950's now being named the IS-3M.
The tank was not considered an export model, although two machines arrived in Poland during 1946, while another machine arrived in Czechoslovakia with the purpose of familiarization and instructor training. A considerably larger number of tanks were sent to North Korea, which in the 1960's had two operational regiments of IC-3's. 100 IS-3 and IS-3M heavy tanks were delivered to Egypt from 1956 to 1967.
---
Share this Product
---
More from this collection