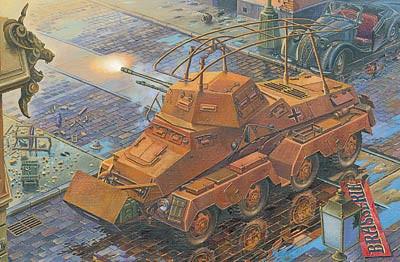 Roden Military 1/72 SdKfz 232 (8-Rad) Schwerer PzSpahwg Heavy Armored Vehicle Kit
This Product Usually Ships In 2-3 Business Days
ROD-704
---
In the mid-1930s, while the Sd.Kfz 231 (8-Rad) heavy eight-wheeled armored vehicle was being introduced, the German command considered the experience gained operating the similar Sd.Kfz 231 (6-Rad) and Sd.Kfz 232 (6-Rad) armored vehicles. The '232' version differed from its predecessor only in the specialized radio communication equipment which allowed wireless radio communication between cars during reconnaissance raids to be maintained.
The only external difference was the bow antenna which was welded onto the armored body of the car. At the point where the antenna was connected to the turret a special joint was installed which allowed the turret to stay mobile and rotate 360 degrees.
The installation of radio communication equipment had no effect on either performance or crew size. The Fu.Ger.11 SE 100 (for medium range wireless communication) and Fu. Spr. Ger. "a" (for short range wireless communication) radio communication stations were rather small and did not impede the normal work of the crew. In 1944 the radio communication equipment was upgraded, and a new smaller external umbrella antenna was installed in all the Sd.Kfz 232 (Fu) (8-Rad) remaining in combat units at that time.
The Sd.Kfz 232 (Fu) (8-Rad) was first used during the annexation of Austria and Czechoslovakia, and its first combat experience was obtained in the Polish campaign in autumn 1939 where radio communication cars proved their ability in infantry support, especially during intense street fighting.
War against the Soviet Union was a severe test for eight-wheeled armored vehicles - in autumn Russia's vast territory was a total mash of mud and heavy cars of the 8-Rad type turned out to be especially vulnerable in this environment. During the first half year of operations about 150 eight-wheeled cars were destroyed. In North Africa the Sd.Kfz. 232 (Fu) (8-Rad) served as a part of the African Corps under the command of Erwin Rommel. High air temperature was one of the most significant problems for armored cars and tanks, since due to tough climatic conditions technical failures were frequent. Eight-wheeled cars turned out to be the best vehicles for long raids in wide desert territory and were in service almost until the last days of DAK existence.
Sd.Kfz 232 (Fu) (8-Rad) production was stopped in 1943 when the Sd.Kfz 234 appeared, the glorious "Puma", the best armored car of WWII, which surpassed the Sd.Kfz 232 (Fu) (8-Rad) in every aspect of performance. Some of the Sd.Kfz. 232 (Fu) (8-Rad) were upgraded to a gun version, the Sd.Kfz 233 "Stummel", while others were upgraded with new radio communication equipment and returned to the front where they continued their military service. Several Sd.Kfz 232 (Fu) (8-Rad) fought for Berlin at the beginning of May 1945 during the severe street fights in the German capital - and as true soldiers they fought against the enemy until the end.
---
Share this Product
---
More from this collection