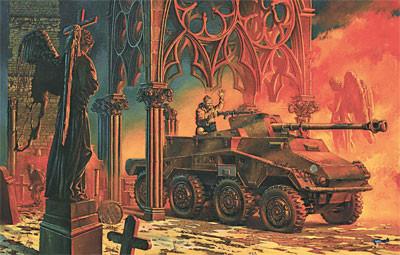 Roden Military 1/72 SdKfz 234/4 PakWagen Schwerer PzKanoneWg Armored Vehicle Kit
This Product Usually Ships In 2-3 Business Days
ROD-709
---
The heavy eight wheeled armored car, the Sd.Kfz.234/2 «Puma», was one of the finest technical developments of World War II. Apart from the basic model, intended in the first place for conducting forward reconnaissance, and also for infantry support, various other versions of this armored car were designed. The final model of this armored car to be put into series production was the Sd.Kfz.234/4.
In 1944 the German Army found itself on the verge of catastrophe. The War's victory laurels had long since turned to thorns for the Third Reich, and the main objectives of the Germans became those of defense. In order to counter the Soviet armies' numerical advantage in armored cars, it was decided to set the PaK-40 75 mm cannon, which had a formidable combat reputation, onto a few of the most suitable chassis for it, including that of the Sd.Kfz.234. The wheels were removed for this purpose, and the cannon was fitted into the open upper part of the car's armored body.
In tests the Sd.Kfz.234/4 showed an insufficient ability to conduct an effective fight - first of all for its too narrow sector of fire, and then for its limited number of rounds (there were only 36); but in general this particular model appeared to be mobile enough, and it was decided to begin series production at the Büssing-NAG plant at the end of 1944. By April 1945, when Germany's arms industry appeared on the verge of complete collapse because of continuous Allied bombing raids, only 89 of the Sd.Kfz.234/4 had been produced.
In conditions of growing chaos at the front line new armored cars were passed to newly formed military units, which immediately started the fight for the 'defense of the Vaterland'. Some Sd.Kfz.234/4s were passed to the First Division of the Russian Liberation Army under the command of General Vlasov. In May 1945, in the last days of war in Europe, this military formation took part in the struggle for Prague.
At least one example of the Sd.Kfz.234/4 was saved, and today it is exhibited in the Deutsches Panzermuseum in Münster.
---
Share this Product
---
More from this collection