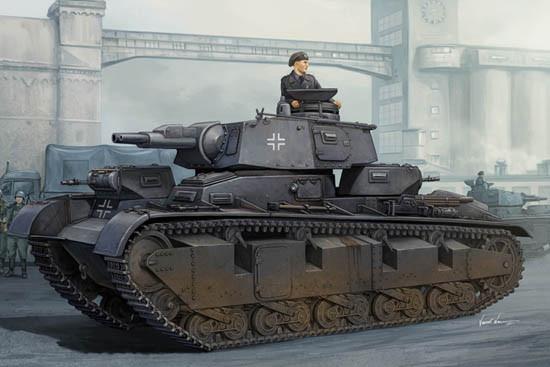 Trumpeter Military Models 1/35 German NBFZ (New Construction) Nr.3-5 Heavy Tank Kit
This Product Usually Ships In 2-3 Business Days
TSM-5529
---
Development of the Neubaufahrzeug (German for "new construction vehicle") started in 1933 when the then Reichswehr gave a contract for the development of a Grobtraktor (heavy tractor) to both Rheinmetall and Krupp. Grosstractor was a code name for the development of a heavy tank, Germany being still forbidden to develop tanks under the terms of the Treaty of Versailles.

The two designs resembled each other to a great extent, the main difference being the weapons placement. Each had a main turret armed with a 75 mm KwK L/24 main gun and secondary 37 mm KwK L/45. Rheinmetall's design mounted the second gun above the 75 mm KwK L/24, while the Krupp design had it mounted next to the 75 mm KwK L/24. Both designs had a secondary turret mounted to the front and the rear of the main turret. These turrets were slightly adapted Panzer I turrets, with the standard machine gun armament. 

Rheinmetall's design was designated the PzKpfw NbFz V ('PanzerKampfwagen NeubauFahrzeug V'), and the Krupp design the PzKpfw NbFz VI. It was intended that these designs would fulfill the role of heavy tank in the armored forces, but the design proved to be too complex and unreliable for this role. Development nevertheless continued in order for the nascent German military to gain experience with multi-turreted tanks.
Over 1160 Parts

Detailed exterior, rolling running gear, workable link injection-molded track (with assembly template), separately molded hatches, ample individual on-vehicle tools and equipment, 2 modified Panzer I machine gun turrets, main turret with whip antenna and turned metal main gun barrels plus photo-etch grille, brackets and flanges.

Decals and color painting guide for 4 German schemes: overall Panzer Gray (x3) and 2-color camouflage.
---
Share this Product
---
More from this collection