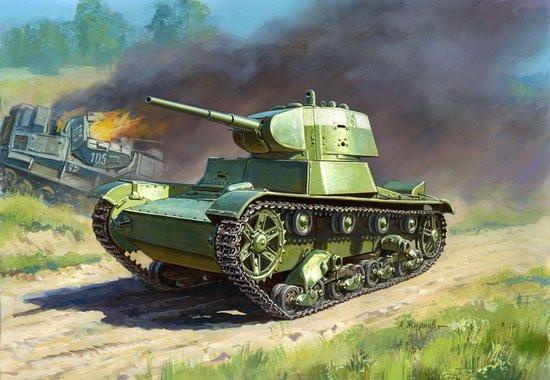 Zvezda 1/100 Soviet T26M Light Tank Snap Kit
This Product Usually Ships In 2-3 Business Days
ZVE-6113
---
Patterned after the British Vickers 6-Ton tank, the T-26 was one of the most successful light tank designs in the world. Over 11,000 of these plucky little infantry tanks were built during the 1930s and 1940s, in more than 50 different variants. Though it was mostly out-of-date by the beginning of World War II, it was the most common Soviet tank at the time and would continue to see service through the end of the war.

The "model 1933" was the most common variant of the T-26. This type of tank had a distinctive turret that housed a 45mm 20K tank gun as well as a 7.62mm machine gun. Some tanks were also equipped with a radio and a "hand rail" radio antenna. It weighed about 10 tons, measured 4.65 meters in length, and was protected by 15mm of armor. This model could travel at speeds over 16 km/h off road, with a range of over 100 km.
Includes one plastic model Soviet tank.




Includes unit flag and unit card for use with the Art of Tactic WWII game.
---
Share this Product
---
More from this collection