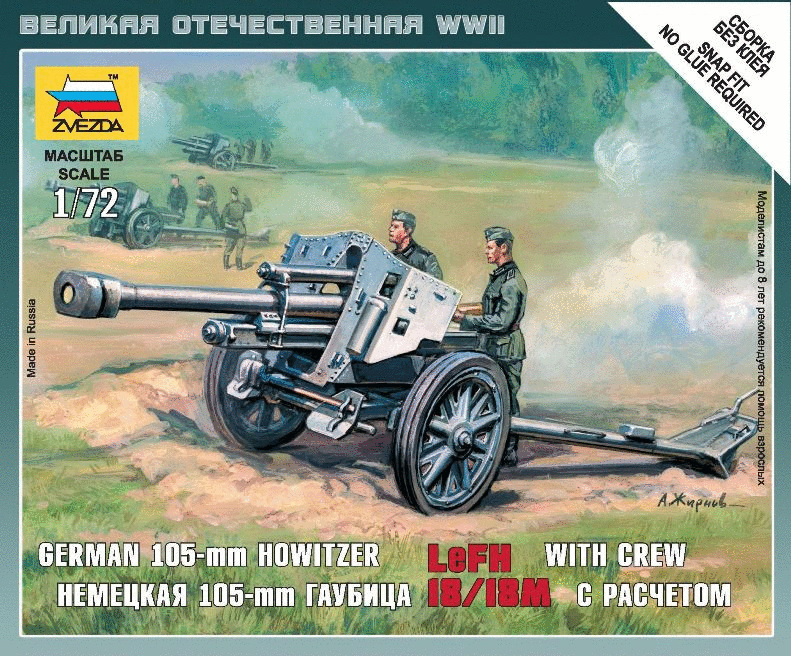 Zvezda Military 1/72 WWII 105mm LeFH18/18 Howitzer w/2 Crew Snap Kit
This Product Usually Ships In 2-3 Business Days
ZVE-6121
---
Developed in 1929 and entering service in 1935, the Leichte FeldHaubitze 18 ("light field howitzer") became the standard divisional howitzer of the German military, and was exported to German allies like Hungary, Spain, and Finland. This excellent 105mm gun continued to see service in the Swedish army until 1982. More than 6,000 of these guns were manufactured by Germany by the end of the war.

This gun proved very successful against the more numerous but smaller caliber French artillery during the early months of the war, but German artillerists recognized a need for additional range. So, by the time Germany invaded the Soviet Union in 1941, the leFH 18 was fitted with a distinctive muzzle brake that extended its range to over 10,000 meters. It could fire both high explosive and armor piercing shells, each weighing more than 14 kilograms.
Includes unit flag and unit card for use with the Art of Tactic WWII game.
---
Share this Product
---
More from this collection