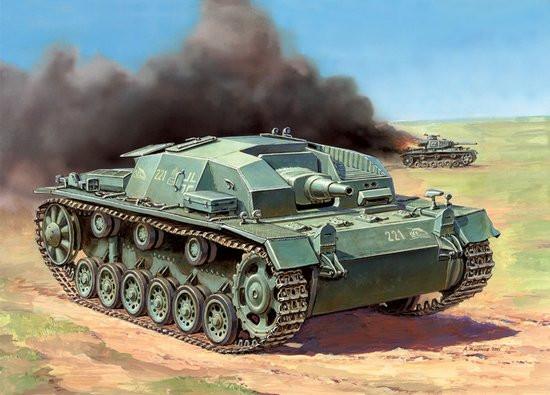 Zvezda 1/100 StuG III Ausf B Tank Snap Kit
This Product Usually Ships In 2-3 Business Days
ZVE-6155
---
Designed to destroy fortifications and support infantry attacks, the Sturmgeschütz III (or "StuG III" for short)—meaning "assault gun"—would actually be the most-produced armored vehicle in the German army during World War II (with more than 10,000 constructed). Based on the proven Panzer III chassis, this vehicle had no turret, allowing it to mount a more powerful gun and more armor than a traditional tank, as well as reducing the costs to build. As the German military struggled against the well-armored Soviet tanks, the purpose of the StuG III was expanded into the role of tank destroyer.

The Ausf. B model was completed by June of 1940. Compared to the earlier model, it featured wider tracks and a simplified transmission. It was protected by 50mm of armor in the front and its 75 mm StuK 37 L/24 gun gave it a more powerful offensive punch than the Panzer IIs, IIIs, and IVs. However, the fact that it did not have a turret made it vulnerable to more mobile attackers, while its lack of a machine gun made it vulnerable to infantry attack.
Includes unit flag and unit card for use with the Art of Tactic WWII game.
---
Share this Product
---
More from this collection