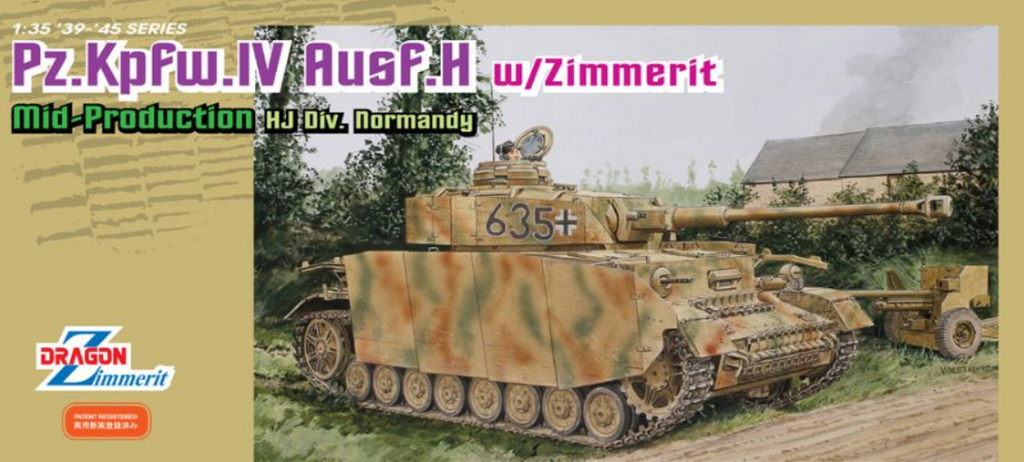 Dragon Military 1/35 PzKpfw IV Ausf H Mid Prod HJ Division Normandy Tank w/Zimmerit Kit
Estimated Shipping: 2-3 Business Days
DML-6611
---
Dragon offers a complete lineup of the popular Panzer IV family tree in 1/35 scale. Now it is time to fill in a gap with this special variant! It's an Ausf.H Mid-Production, and it specifically represents a vehicle fighting in Normandy in 1944. One unit to field the Panzer IV H was the 12th Panzer Hitlerjugend Division, with the formation's combat debut occurring on June 7, 1944 as German forces began a ferocious defense of Caen in the Normandy area against Canadian and British units. It was one of the closest divisions to the landing beaches. When the German division eventually escaped the Falaise pocket, it had lost 42% of its personnel and 94% of its armor. 
This 1/35 scale plastic kit features a number of newly tooled parts, one example being the turret side skirts that have their own layer of readymade Zimmerit. Also brand new is the frontal armor plate containing the steering-brake hatches
. This too bears a coating of Zimmerit, which is beautifully sculpted and looks extremely authentic. The inclusion of Zimmerit on this kit is certainly a highlight, as it saves modelers from the time-consuming task of recreating the texture themselves. The box comes with a generous selection of 
Cartograf decals, all of which cover those panzer divisions operational in Normandy, including the Hitlerjugend and 2nd Panzer Divisions
. For those model-makers recreating a scene from Normandy, this is the perfect foundation on which to base it!
Newly tooled turret skirt molded w/Zimmerit
Turret roof rendered w/turret skirt armor brackets
Turret skirt and side-skirt armor plates can be installed separately
Great detail on hull rear
Intricate spare tracks on glacis and rear armor plate
Spare-wheel rack w/spare-wheels on upper hull side
One-piece 3-directional slide-molded turret
Commander's cupola recreates structural details
Cupola vision blocks can be assembled open/closed
Slide-skirt armor produced in metal for scale thickness

 

Side armor for air filter reproduced
Air intake covers are accurately reproduced by plastic part
Finely detailed 7.5cm Kw.K.40 L/48 gun
3 directional slide-molded gun sleeve newly molded w/Zimmerit
Detailed gun muzzle brake
Injection-molded fenders made to thinnest possible dimensions
Zimmerit molded on the top of side fenders
Brackets for side-skirt armor realistically detailed
Air filter reproduced
Injection-molded on-vehicle tools w/crisp detail
Final-drive housing w/details on both sides
Sprocket wheels w/breathtaking detail and multiple delicate parts
Idler wheels have detailed parts

 

Road wheels and suspension w/multiple components exhibit crisp detail
---
Share this Product
---
More from this collection