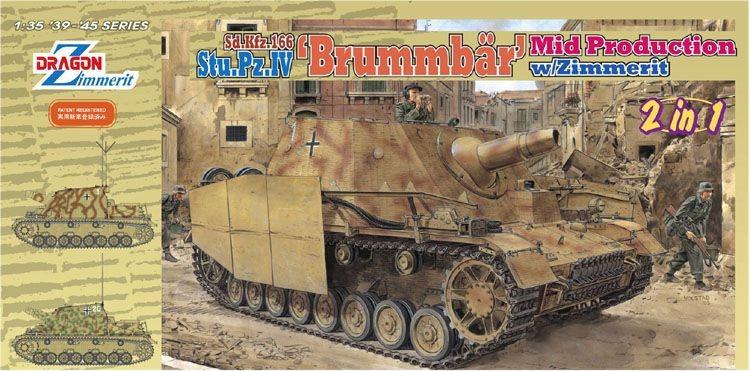 Dragon Military 1/35 SdKfz 166 StuPz IV Brummbar Mid Production Tank w/Zimmerit Kit
This Product Usually Ships In 2-3 Business Days
DML-6500
---
The Sd.Kfz.166 was an armored infantry support gun designed mainly for urban operations, more commonly known as the Sturmpanzer IV. As the name implies, it was based on the chassis of the Panzer IV tank. The Allies referred to it as Brummbär, which translates as "Grumbler". The new armored casemate fitted on the hull enclosed a 15cm StuH.43 L/12 gun. This weapon developed by Skoda could fire the same rounds as the 15cm s.IG.33 gun, with a total of 38 rounds carried inside the vehicle.
Dragon has followed up its earlier Mid-Production 1/35 scale kit of the Brummbär with another kit from the same period, though one featuring a coating of Zimmerit. Anti-magnetic layers of Zimmerit were applied to all vehicles prior to September 1944, so this inclusion makes the kit historically accurate. Modelers will also know that applying Zimmerit to a model is fraught with all kinds of challenges. Dragon's latest kit thus offers convenience and accuracy, for the injection-molded texture and pattern is beautifully rendered using Dragon's patented Zimmerit technique. This is obvious in the unique radial Zimmerit pattern on the front of the multi-directional slide-molded superstructure, for example.
The kit incorporates separate
metal side skirt
elements that provide true-to-scale thickness and can be arranged to a modeler's preferences. The
brand new one-piece 40cm DS tracks
were also especially prepared for the Mid-Production Brummbär. The distinctive Brummbär appeared in such battles as Kursk, Anzio, Normandy, Ardennes and the Warsaw Uprising, so it gives model-makers ample scope. For sheer convenience, this Brummbär with Zimmerit offers unparalleled firepower and impact!
Features:
Unique radial Zimmerit pattern on the front replicate the real vehicle 
Zimmerit is injection molded w/superior detail 
Multi-directional slide-molded superstructure w/zimmerit realistically represented 
StuH.43/1 L/12 main gun w/slide-molded barrel 
Rifling inside gun barrel authentically recreated 
Slide-molded periscope w/clear plastic parts 
Fully detailed gun w/breech assembly 
Gun breech and recoil guard fully reproduced 
Gunner's seat w/realistic texture 
Metal side-skirt armor plates can be installed separately 
Assembly options provided for fighting-compartment hatches 
Interior details such as hatch supporting arms and scissors periscope provided 
Engine hatches can be assembled open/closed 
Photo-etched part for engine-deck exhaust grill 
Brand new one-piece 40cm DS tracks for Brummbär Mid production 
Finely detailed running gear for Brummbär - road wheels, sprockets, idlers and return rollers authentically reproduced 
2-directional slide-molded lower hull w/zimmerit on both sides 
Rear fighting-compartment hatch can be displayed open/closed
---
Share this Product
---
More from this collection