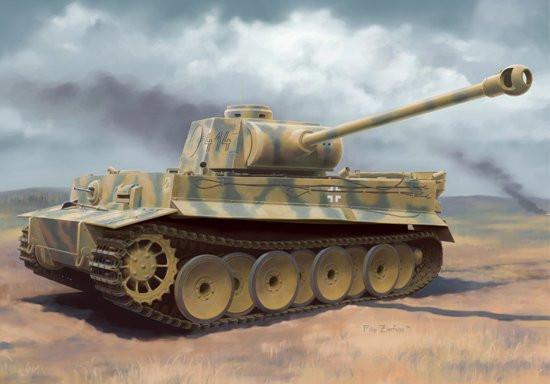 Dragon Military 1/35 Tiger I Ausf H2 Tank Kit
This Product Usually Ships In 2-3 Business Days
DML-6683
---
One of the most famous tanks of WWII was the German Tiger I, and various 1/35 scale kits of this famous tank take pride of place in Dragon's line-up. Going a further step back in time, however, is Dragon's newest kit of a Tiger H2. Both Henschel and Porsche were involved in preliminary design work for a new heavy tank. In mid-1941, Henschel decided to build two prototypes of its VK 4501(H) design that were armed with an 88mm KwK.36 cannon and a 75mm KwK.42 cannon, and these were known respectively as H1 and H2. The Rheinmetall L/70 gun of the H2 was mounted in a newly designed turret similar to that eventually used on the Panther Ausf.D and Ausf.A. Only a wooden mock-up of the turret was ever made, as Henschel eventually decided to focus on the H1 type in late 1941. In any case, modelers can now recreate this Tiger H2 prototype with Dragon's latest kit.
As the very first 1/35 scale Tiger H2 to appear in a Dragon box, viewers could be forgiven for thinking the packers has accidentally mixed a Panther turret with a Tiger I hull/chassis! In fact, the kit does utilize Dragon's famous Tiger I hull, which has benefited from years of engineering refinement in the manufacturer's extensive Tiger family. Befitting this Henschel H2 subject, the turret is a brand new creation and it features an appropriate 75mm KwK.42 cannon.
To ease assembly, the tank includes convenient elements such as DS tracks, and parts are accurately dimensioned and detailed. Although the Tiger H2 never saw production, it was a significant link in the Tiger's family tree. Dragon now eases the type's availability to modelers, and it will make a welcome addition to any Tiger collection's pedigree.
---
Share this Product
---
More from this collection